Back in May, the 2019 edition of Collins Scrabble Words (CSW2019) was released, with International tournaments adopting it from July 2019.
So I've now added it as an option for Word Helper. Just choose "Scrabble International" -> "2019 Tournament" in Step 3 "Choose your dictionary".

If you have my iOS Word Finder app I'll be updating that in the next few weeks. I have to stick to Apple's rules for app updates so it takes slightly longer to make the changes.
I've also updated the International versions of my Free Cheat Sheets, and will be sending an email to newsletter subscribers with the new versions. If you'd like to sign up for the newsletter click here. I only send about one email a year on average so you won't be overwhelmed!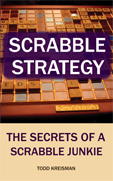 And of course, here's the traditional plug for my Scrabble Strategy book. If you'd like to support the site, please consider buying a copy.  It's actually rather good, and makes a great gift 😉
Click here for the paperback version on Amazon

or click here for the Kindle version

or click here for the Apple iBooks version
Happy Scrabbling everyone,
Richard