Recently there have been quite a few changes to the dictionaries used in Scrabble and Words With Friends:
Words With Friends have merged their US English and UK English dictionaries into a single dictionary
For US Scrabble tournaments, the 2018 NASPA Word List (NWL) is now in use
For US Scrabble home play, the 2018 Official Scrabble Players Dictionary (OSPD or "Merriam-Webster") is now in use
For US Scrabble school play, the 2018 School Scrabble Word List (SSWL) is now in use
I've now updated my Word Helper tool to allow you to choose from the above dictionaries (along with a couple of 2016 dictionaries which had slipped past me!)
[Edit: it seems the Words With Friends change has caused some confusion, so I'd better explain.
On about 13 March 2019, WWF released a new version of their app (both iOS and Android). In the new version, the US English and UK English dictionaries have been merged into one large combined English dictionary.
I presume this is to make it easier to play against opponents in different countries.  You no longer need to choose the dictionary, and each opponent can use both US and UK spellings.
If you haven't yet updated your app, you won't have seen the change yet, so my update may have been confusing!  But you really should update your WWF app, as your opponents will be using the new bigger dictionary, and until you update you'll be stuck with the older smaller dictionaries and at a disadvantage.
I hope that explains it a little better.  If you still have queries, please contact me!

There will also be a new version of the International Scrabble dictionary (Collins Scrabble Words) due out in a few weeks time.  I'll try to get an update out for that when it arrives.

If you have my iOS Word Finder app I'll be updating that soon.  I have to stick to Apple's rules for app updates so it takes quite a bit longer to update!
I've also updated my Free Cheat Sheets, and will be sending an email to newsletter subscribers with the new versions.  If you'd like to sign up for the newsletter click here.  I only send about one email a year on average so you won't be overwhelmed!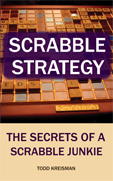 While you're here, I'd like to remind you about my Scrabble Strategy book.  It's both entertaining and informative 🙂
Click here for the paperback version on Amazon

or click here for the Kindle version

or click here for the Apple iBooks version
I think that's it for now.  Let me know if you have any questions!
Richard